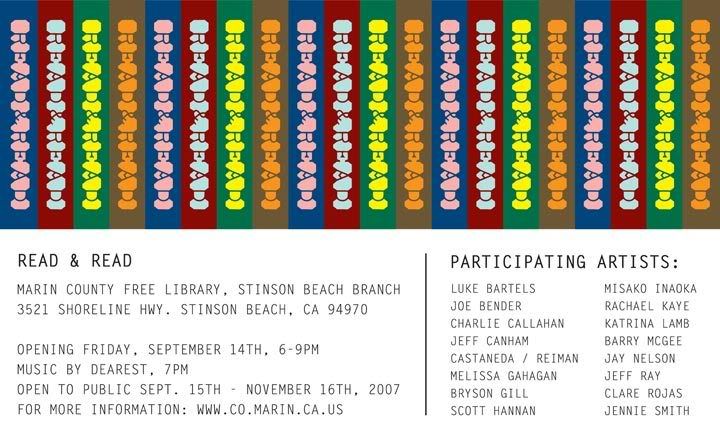 Read & Read
Stinson Beach Library
3521 Shoreline Hwy, Stinson Beach,
CA 94970
Opening: Friday, September 14th 2007, 6:00 – 9:00pm
The show entitled Read & Read highlights the library as an unparalleled place where information is openly exchanged and free to the public. In addition to original works of art, each contributing artist has submitted a list of books that have been instrumental in their creative process. All of the titles and authors have been compiled into a zine and will be available during the exhibition opening. The publication identifies the book as a crucial ingredient in our lives and shares with its audience resources that are otherwise inaccessible.
Artists:
Luke Bartels
Joe Bender
Charlie Callahan
Jeff Canham
Castaneda / Reiman
Melissa Gahagan
Bryson Gill
Scott Hannan
Misako Inaoka
Rachael Kaye
Katrina Lamb
Barry Mcgee
Jay Nelson
Jeff Ray
Clare Rojas
Jennie Smith