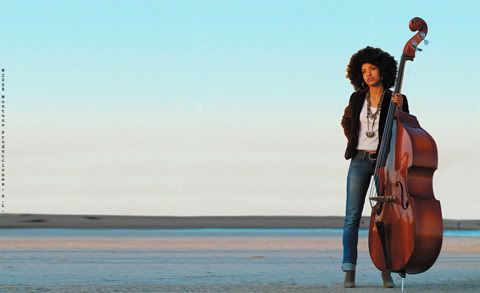 Every few years, a new artist comes along with talent and potential so great that it challenges and redefines the common perceptions of what jazz is and where it's heading. The new light on the horizon may be a compelling vocalist one year, or perhaps an unmatched instrumental virtuoso a few years later, or maybe a brilliant composer a few more years down the road.
Bassist/vocalist/composer Esperanza Spalding is all of these things and more. And she will, in fact, challenge and expand your perceptions of jazz. —Heads Up
Last week, while randomly watching an episode of David Letterman (it's been at least 10 years since I've watched his show), 23 year old Esperanza Spalding came on and blew me away with her virtuosity. It's definitely the combination of the upright bass, the vocals, the beauty, and the afro. Oh, and don't miss the awesome appearance of a melodica solo (video below).
Going to see her live at Yoshi's in Oakland this Thursday.